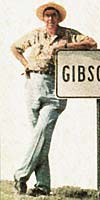 Al "The Giant" Tomaini
Giant's Camp has been a Hillsborough County landmark for a half century and it's name didn't just come out of thin air. It was started in Gibsonton by Al Tomaini and his wife, Jeanie in the early 50's as a hangout for the show people who gathered in the town each winter. The "giant" stood 8 feet, 4.5 inches tall in his size 22 shoes and weighed 356 pounds. Jeanie was 2 feet, 6 inches tall, having been born with a birth defect.
Al Tomaini and Bernice "Jeanie" Smith married in 1936 and toured for decades as "The World's Strangest Married Couple" - which is quite a reasonable assertion when the groom is a giant and the bride is "The World's Only Living Half-Girl". They worked circuses and carnivals, and for a time owned and managed their own shows.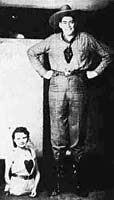 Jeanie was born in Blufton, Indiana, on August 23, 1916, but without legs. Realizing the money-making potential, her parents started Jeanie down the sawdust trail while she was still an infant.
During the mid 1930's, Jeanie met her future husband, Al, born February 25, 1912 in Long Branch, New Jersey, on one of the shows. While Jeanie had been a trouper almost since birth and enjoyed the work, Al - at this time about twenty-two years old and taking medication to retard his growth - was fairly new to the game and wasn't entirely comfortable with being stared at. Jeanie sensed Al's loneliness and befriended him, and a romance soon began to blossom.
By 1949, the Tomaini's had largely left life on the road behind them, though they would occasionally make special guest appearances. They lived comfortably with their adopted children in Gibsonton, Florida, where Al served as both police and fire chief for many years. Al liked the fishing and the Alafia River so much that he converted mud flats and old shacks into a modern trailer camp, put up a restaurant, and created "The Giant's Fishing Camp."
People came from all over to see the giant. He also made numerous appearances around the bay area before stunned audiences who couldn't believe their eyes. Alongside his wife, they were a sight to behold. He embraced all the other giants, midgets, pinheads, tattooed men, bearded ladies and women lugging snakes who made Gibsonton the carnival capital of America… the place where freaks and show people live when they aren't on the road.
Unfortunately, the glandular condition that caused Al's gigantism also doomed him to an early death. Al passed away at the age of fifty on August 30, 1962. Jeanie outlived her husband by many decades but died on August 10, 1999 - which was, remarkably, the fifty-third anniversary of the day she received her daughter, Judy, and just two weeks shy of her own eighty-third birthday.