Kurt Curtis
(KOTO King of The Oldies)
If anyone has earned the right to be the first inductee into the Tampa Bay Nightclub Grand Mix Masters Hall Of Fame, it's Kurt "K.O.T.O." Curtis who has been Tampa Bay's longest running and Top ranked Grand Mix Master for over 30 years. At age 12 Curtis sat in on one of Roy Nilson's afternoon radio shows at WLCY and right then and there decided his destiny was to become a Disc Jockey. In 1965 he met Dick Clark who he would cross paths with two more times in his long career. Curtis launched his career as an Oldies Jock during the late Sixties and quickly become a full-fledged expert in the field of "Oldies". During the early Seventies he dabbled in radio working with Billy Jay Jacobs
doing Public Service Announcements for WFSO.
It was also during the early Seventies that noted club manager, Jake Lamotta, Jr., son of famed boxing legend, Jake "The Raging Bull" Lamotta, discovered him. Lamotta introduced Curtis to famed California nightclub musician, recording artist, Grand Mix Master, Tony Dezago. Dezago, a well-traveled entertainer had never met anybody who knew more about the " Oldies" than Kurt Curtis. Offered a position as an "Oldies" nightclub DJ for the nationally famed "Flanigan's nightclub chain, Curtis was sent to Daytona Beach in late 1976, where he established one of the first and hottest "Oldies' clubs in the nation. Highly respected by his loyal following in Daytona Beach, they crowned him with the title, "K.O.T.O.", the undisputed "King Of The Oldies". While in Daytona Beach, the legendary " Wolfman Jack", as well as Sha Na Na, took the time to visit him. On the world's most famous beach Curtis became a local legend. His first class Oldies shows are still talked about to this day and are fondly remembered by thousands.
In 1979 he was invited to attend Dick Clarks 50th Birthday party in Orlando. Soon the "K.O.T.O." became the subject of many feature newspaper articles and TV documentaries. Southern Music Magazine called him a legend of the South. In 1982, he was invited to Atlanta where he programmed the hottest " Oldies" club in the city. While in Atlanta, he was offered a position with the largest nightclub chain in the country, "McFadden Ventures", where his talent and knowledge of music was utilized to help set up music formats for the nationally acclaimed Confetti nightclub chain.
While in Atlanta Curtis mastered the art of mixing Dance Club music after befriending Grand Mix Master Tito Acosta at the legendary and mammoth Limelight Disco. In 1983 he was brought into Tampa to host Confetti-Tampa. After an incredible run there, he was transferred to open Confetti-Ft. Lauderdale. While there he groomed "Stan "The Man" Priest to become a
future Grand Mix Master. Priest has often said that Curtis taught him everything he knows about music. After spinning at many of the top ranked most prestigious dance clubs in the U.S. Curtis returned to his hometown of St. Petersburg in 1992 where he has continuously spun in the top club's of Tampa Bay. He also launched his own mobile DJ service called D.A.N.C.E. Entertainment and has been the master of ceremonies for countless weddings and parties. In 1997 he landed the role as the Grand Mix Master in an episode of ABC's Second Noah. During 1997-98 Curtis was an on-air talent for Oldies Radio-U-92 in St. Petersburg. In the new millennium Curtis continues to be one of the most popular and sought after Grand Mix Masters / Entertainer's in the State.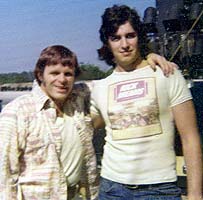 Today KOTO - Kurt Curtis is the author of a massive Encyclopedia called "Florida's Famous and Forgotten" (The Illustrated Encyclopedia of Florida Rock, Soul and Dance music-Vol-1-The first Thirty years-1955-1985". In January-February 2002 he was flown to Miami to write the history and liner notes for a double CD released by world legendary record promoter and producer, Henry Stone.
From 2000-2003 Curtis enjoyed a successful run as the resident Grand Mix Master for Stormy's night club located above the Hurricane Seafood Restaurant in historical Pass-A-Grille. Always in demand for his legendary programmig and mixing skills, Curtis was offered the position to be the Grand MixMaster for The Green Iguana's brand new Flagship club located in St. Petersburg. Opened on January 15th 2004, The Green Iguana has become the hottest nightclub spot in Tampa Bay. There have not been crowds this big since the days of Confetti back in the early Eighties. Check it out!
Update...
Robert Kurt Curtis "KOTO" passed away 9/15/2004 of natural causes.
Kurt Curtis was an unusual man, a man with a penchant for Florida music history. KOTO as he was known (King of The Oldies) traveled the state many times over the last 20 years, compiling information for a book he was writing, a Florida Rock & Roll Encyclopedia.

His manuscript, a mere 1500 pages, contained not only information and a discography of the musicians, but also their photos. This was truly a life's quest.

KOTO listed every Florida band to ever record a song, who played on the session, and what had become of the people involved. Truly a magical compilation for any Florida music historian.

Kurt Curtis loved music, he ate it, slept it, and lived it. At an early age, his Mom dropped him off at WLCY Radio, the Top 40 monster of its day, to meet the legendary afternoon DJ Roy Nilsson. KOTO was hooked, he wanted a career in broadcasting.

KOTO would listen everyday, memorizing the lyrics, and collecting the 45s, thousands of them. He knew every singer, song writer, and label. Truly a music and radio junkie.

Getting into the radio biz proved very difficult for Curtis, so he started mixing at local clubs. KOTO became a legend on the Tampa Bay club circuit. Versatile, he knew all types of music, which paid off for him down the road with the changing musical tastes of the country.

In the late 80s, his dream finally came true as he landed a weekend slot at U92 with Scott Robbins, playing his favorite type of music, the oldies. It was a fulfillment words could not describe, in fact years later his eyes would swell as he spoke of his brief time in the radio limelight.

Management changes brought an end to his radio stint, and it was back off to the night clubs, and spinning discs for the younger crowd. He did not love it, but hey, it was as close to being a radio DJ as he could be.

After a more than 22 year quest, KOTO found a publisher for his book, Doug Cifers. After a little more than a year of editing (1500 pages would put War & Peace to shame), the book was finalized, it was set to be published in mid October of this year. A long journey was coming to fruition, his baby was about to be born.

Kurt Curtis never lived to see that dream materialize, as he died of an apparent massive heart attack on Wednesday September 15th at his apartment in St Petersburg..

KOTO's body was found by co workers at the club, who became suspicious when he did not return phone calls.

Robert Kurt Curtis, King of The Oldies, would be proud to see his offering "The Famous and The Forgotten" hit the book stores. The 54 year old entertainer, who suffered from diabetes had a fear he would not outlive his mission. KOTO was right. He died the day it went to press.

He will be missed by those who knew him professionally, and those of us who knew him personally as a man of passion who loved the oldies.
Rest my dear friend, rest.

Tedd Webb
tedd@teddwebb.com