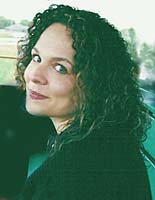 Carmen Connors
Carman & Chris
You may remember Carman and Chris from their Star 95.7 days in Tampa Bay. The duo rocked the town from 6-10 AM and were a ratings success.
Mix 104.1 in Minneapolis took over the Carmen and Chris show last March. They took them from a 1.9 to a 7.2 rating in less than a year.
"When they took us over, by August we were down to a 2 share and they decided not to renew the contract. The PD was fired three days later."
Chris is working as an independent driver for Fed Ex and is out of radio for good. Carmen is working as a fill-in talk show talent for Clear Channel and hopes to land her own show.
Carmen has worked New York, Virginia. Tennessee and Florida and has been a big hit every where. She will be a big star in Talk Radio, multi talented lady.