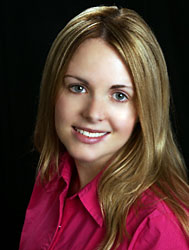 Dana
She is like Madonna, Cher, OJ, a handful who don't need a last name.
Dana was the mid day jock at 93.3FLZ. Catty, sharp, and a wit to match, without par in the bay area, perhaps the entire country. You can hear energy in her voice, she loves what she is doing.
This Waltham, Mass native got the radio bug at age 13. She started calling a station in Boston, ended up touring the station and was hired to be an intern when she was 14. She quit radio to do a college trip in accounting of all things !! That dream ended after 2 years when she realized radio was her first love.
She was a board op at a Sports Station in Worcester, and got her first on air job in 1999 at WJBQ Portland. She worked at Mix 98.5 in Boston before coming to 93.3 FLZ.
This pretty lady is at the top of her game, and can be expected to go far, the sky is the limit for Dana.
Dana left 93.3 WFLZ in 2004 and is now working as a jock in Boston. She has a great web site at: www.danasdirt.blogspot.com