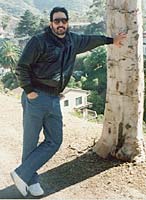 Dr. Chuck Stevens
Original producer for "The Great One's", Tedd Webb's Sports Talk & Howard Hewes on WLCY. Broke into radio at WLCY after a stint as a PR officer in the USCG, including coverage of the USCGC Blackthorn incident and the Skyway bridge disaster. Was the last DJ on WLCY before the "big switch" to WNSI news talk radio.
Tampa Bay Radio gigs included. WLCY - WRBQ - AM105AM - WTAN - 96 FEVER - MIX 96 - 98 ROCK - 95YNF and of course WYUU U92, where he developed and successfully held the number one arbitron position for 6 years straight with Dr. Chuck Stevens "Breakfast With The Beatles".
Dr. Chuck was also the entertainment director for many Tampa Bay area nightclubs including the Suncoast Playboy Club.
Currently "on the beach" so to speak and out of the radio biz (But still looking to return to radio) after stints in Ohio at WZOO - WFUN and Star 97.1. He is now a Rock & Roll columnist and concert reviewer for the associated press.
Chuck occasionally was seen on tour with The Beach Boys, or headlining in Las Vegas opening for his friends "Phil Dirt & The Dozers".
Update: 1/15/2020
Dr. Chuck Stevens, former host of Breakfast With The Beatles, passed away two months ago. He was suffering from cancer.

Dr Chuck Stevens formerly of WLCY hosting at a Vegas Club