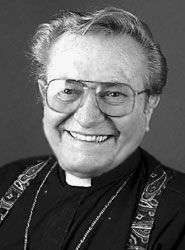 John 3-16 Cook
Volumes of newspaper articles have been written about the ordained minister's selfless mission over the years, detailing his start in the '60s in Memphis, TN, and following him to St. Petersburg, Tampa and Miami Beach in Florida; Lafayette, LA.; Charlotte, NC; and finally settled in Las Vegas.
Sonny, as he is called by those who knew him when he was a Hollywood stunt man years ago, went throughout downtown Tampa's Franklin Street, establishing missions for the homeless. He even brought in Cowboy Star Lash LaRue to help him recruit street bums for his missions in the mid 70s.
Updated 4/25/2004
I have worked with the homeless for the last 20 years here in Las Vegas & have a non-profit corp. I have run for Political Office & I have been happily married to my Astrologer wife Magickal Marissa for 16 years. I'm 71 years old, blew all my money on the homeless & I have lung cancer. I'm comfortable & happy.
Updated 8/16/2015
John 3-16 is now in Oklahoma and has a Google site.
https://profiles.google.com/John316Cook/about