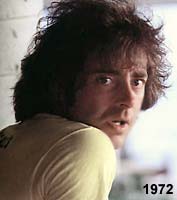 Left -- John Lander as he looked in 1972 working at WFLA
John Lander
John Lander was first heard in Tampa Bay when he worked overnights on WFLA radio, using his real name Tom Clarke. He created a radio soap opera "Bonela et Gilfardo", the funniest bit ever heard on Tampa Bay radio.
He also worked at Mix 96 in their battle against Q105 in the 1970s and 80s. John has had stops in Houston and Boston, among other big markets.
•Favorite TV Show: Sponge Bob, Square Pants
•Favorite Food: Peanut Butter and Jelly
•Favorite Movie of All Time: Dude, Where's My Car? (What's Mine Say?!)
•How Career Got Started: It was a toss up between Brain Surgeon or DJ
•Most Embarrassing Radio Moment: Letting the "F" Bomb slip out
•Lifetime Concert Highlight: Sat in the front row of the Britney Spears concert
and caught her sweat in a little bottle that he still has. may use it to baste a turkey.
•Favorite vacation spot: Revere Beach
•Drink Of Choice: A Ted Kennedy Margarita (no salt)
Now does mornings at Mix 98.5 in Boston.