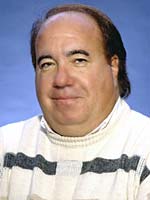 Mark Sebastian
One of the greatest voices in radio is that of Mark Sebastian, "Sea Bass" as his close friends call him. Born in Menominee, Michigan, June 21, 1951, both parents were on the radio... Thus a baby DJ came from that union.
Mark Sebastian worked at his dad's station, WMAM, in Marinette, Wisconsin... Mark's father was a TV News Anchor for a while.
Major stations Mark has worked at include:
Q102-Cincinnati
Z100-New York City
WHTT-Boston
B-96 Chicago
WLS FM & AM Chicago
Also has worked in:
Orlando, Buffalo, Green Bay, & Milwaukee. Currently doing a weekend show at "the new cool 105. 7" in Atlanta.
He arrived in Tampa in Oct '94 and went to work for what is now MIX 100.7 in May of '95... Got off the air totally in '02 to devote full time work to production at Clear Channel and outside ventures.
Currently the voice nationwide for "The Phil Grande Show" stock program. Also heard on 3 stations of radio one in Japan.