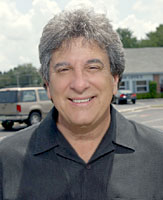 Rodney Justo
I wanted to be a drummer. Occasionally I would sit in for different bands when their regular drummers got sick or couldn't make a job. Once, at a rehearsal for a band called 'E.G. and the Hi-Fis', where I was hoping to take over for this existing drummer, I somehow ended up singing a song while waiting for the singer to show up. "Lets get our drummer back and fire the singer" said E.G., known to his mother as Emilio Garcia. And I became the singer for 'E.G. and the Hi-Fis'. After a short while I figured out that he was making all the money, so I paid him back for his generosity by taking his band with me and joining up with three other guys who were putting a band together known as 'The Mystics'.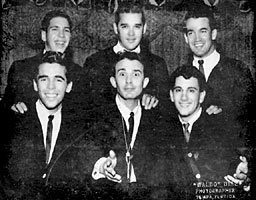 Rodney & The Mystics 1963
We eventually evolved into an eleven piece band doing primarily rhythm and blues. Not long after we became the 'House Band' at the Clearwater Auditorium, which later became the premier venue for big name artists at what was to become the 'WLCY Star Spectacular'. At that time the successful record acts were not bands, but single artists who would tour to support their current record release. Since the guys in my band were good music 'readers' we ended up backing up most of the big artists like Roy Orbison, Gene Pitney, Fabian, Ray Stevens, Neil Sedaka and Bobby Vee. Just about anyone who had a hit record from 1961 to 1965 was backed up by 'Rodney and the Mystics', as we had become known, due to the suggestion of the promoter, Paul Cochran, (who later became my manager).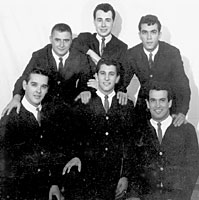 Rodney & The Mystics 1964
The first single artist to eventually travel with his own band was Roy Orbison. The rhythm guitarist in his band, the 'Candyman' was a guy named Bobby Goldsboro. When Bobby scored a hit of his own called 'See the Funny Little Clown', Roy asked if I would take his place. The thought of making less money than I was already making appealed to me immediately, so off I went to see the world.
The Candymen managed to sneak in a top 40 hit with a song called 'Georgia Pines' which naturally meant Roy wasn't long for this world and needed to start looking for another back-up band. I never was in a better band ('The Mystics' were a close second), but sometimes bands just don't last. So after 4 1/2 years and two albums for ABC and an appearance on American Bandstand.... 'The Candymen' came to an end.
I joined up with some local guys who had a band called 'Noah's Ark' and we had a record out called 'Purple Heart' on Liberty Records. When the record came out and it said 'Noah's Ark featuring Rodney Justo' (same manager) the rest of the guys weren't exactly happy... Goodbye 'Noah's Ark'.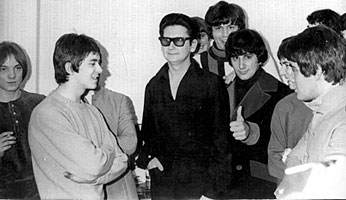 Rodney with Roy Orbison and The Small Faces
featuring Stevie Marriott (far left)
"We want to start the first super group from the south", the voice said. "Move to Atlanta, you'll be the musicians on the other people's records and make plenty of money while we're recording our own album for Decca." "I've got all the other guys lined up, but we need you to be the singer." So began the Atlanta Rhythm Section.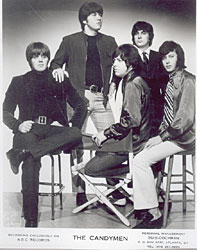 Rodney with the Candymen
The money part was true...for them. After two years and a moderately successful, but critically received album, ARS was still more interested in studio life than band life. During a tour with 'Deep Purple' headlining, we were told that we would be returning to Atlanta to begin cutting soundtracks for a cartoon TV show called Butch Cassidy and the Sundance Kids. I decided that maybe the 'Atlanta Rhythm Section' wasn't for me.
New York, New York. If I'm going to be a studio musician, I may as well go to the pinnacle of studio activity. While my soon to be ex-wife and family went to Puerto Rico, I moved to New York City. I was the bandleader for B.J. Thomas, whom I had gotten to be friends with as a result of singing on his records while in ARS, so that gave me some income. Thank God I made some friends who introduced me to the right people, notably Allan Schwartzberg, arguably the most sought after session drummer in the country. So I was a 'jingle singer' singing for Coca-Cola, Pepsi, Hardees, Mazda and Flagg Bros. Shoes. At the same time, I would go on the road with B.J. Thomas. I even went to Europe for about six weeks to sing with the legendary guitarist, Roy Buchanan. Singing jingles can be very lucrative, but other than the money, there's not a lot to look forward to.
Rodney Justo with the
Atlanta Rhythm Section
Back to Tampa, just re-married, after six months I get a phone call that the singer/drummer for Beaverteeth, (a band I hired made up of some of my old friends from Alabama, including the guitarist from 'The Candymen' to go on the road with B.J. Thomas) had been diagnosed with a terminal illness. Would I come help them out? Two years and two albums later, I'm forced to make a decision...Is it more important to be a successful musician or a successful father? No contest. At the age of almost 34, I got my first 'job', 24 years later, I'm still here. By the way, in 1983, I did go back with ARS for a year doing concerts on weekends only so as not to jeopardize my real job.
So here I am, a sales manager for beer and malt beverages at Southern Wines and Spirits. The world's largest alcoholic beverage distributor. I didn't know I could get a job, much less keep one.
CLICK HERE to view our write up in the Garage Bands section.