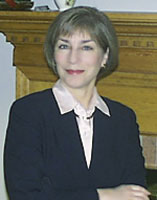 Rosemary Haddad
Hello, Tampa! "Desperate & Dateless" just doesn't seem that long ago! Are any of our matches still together? Coincidentally, I ran into another old Tampa radio personality, Pat Barry, the other day. He's still doing radio here in Cincinnati, and told me he recently did a "Desperate & Dateless" segment on his show here. The legacy lives!
After Tampa, I joined KYW Newsradio in Philadelphia. The very favorite part of my stay there was as Health and Science Reporter. A lot of the major pharmaceutical companies and research hospitals are around Philly, so it was a great assignment. Nonetheless, I had few second thoughts when offered the chance to move into news management with the station (which was later bought by CBS and then became part of the Viacom kingdom).
While at KYW, my husband Jim and I had our only child, Jeffrey James. When JJ was 2, we decided to move back to the Midwest so he could get to know the rest of his family here. After a short stint in radio and TV in Cincinnati, I was offered the opportunity to join Merrill Lynch. I've been here 14 years now, and am a Senior Financial Advisor. Interestingly enough, it was one of my best friends and client in Tampa who suggested I get in touch with Tedd Webb. I did, so here I am (thanks to Tedd's dogged persistence).
Here at Merrill Lynch I do financial and investment planning for clients. I get to Florida fairly frequently to visit old friends and see current clients, so if you need financial assistance, please call. Tedd, is it ok to leave my toll-free phone? 800-234-2099.
Best wishes to everyone from Cincinnati!