Scott Springer
Native of Cincinnati. Graduate of Anderson High School(1979), University of Cincinnati (1983) and University of South Florida (1987)... He says "I'm not applying for the Notre Dame job so this all is truthful."
Married in 1983 to Kathy, 4 sons: Daniel (1987), Travis (1990), Lucas (1998) and Aaron (1999). The basketball team was averted in '99 upon completion of a vasectomy and the full kick to the crotch came later that year as he officially became Clark Griswold by purchasing a mini-van.
Scott says "The ever-lucrative radio career started in 1986 when I heard Alan (now Al) Gardner on WFLA and knew he'd worked in Cincinnati at WLW. He made the mistake of allowing me to come down where I subsequently was hired at sharecropper's wages to work with Tampa radio legends Tedd Webb and Gary McHenry. Jack Harris was there briefly before leaving for Q105."
"Two years later, I was invited to leave for Q105 and worked there with the Zoo and News/Sports crew until 1990 when a highly-paid co-worker pissed me off and I moved home. Jack Harris was there briefly before returning to WFLA (do you see a trend?). Also, in Tampa I produced Tedd Webb's "Sports Rap" on Channel 28 where I met countless number of sports personalities and was responsible for how many times Tedd fired off his flatulence sound effects during the program."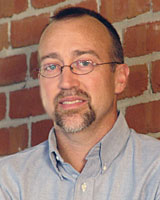 "I've been in Cincinnati since 1990 although I return pretty much yearly to cover the Reds Spring Training in Sarasota and the surrounding areas. After performing numerous functions at 700 WLW (producing, reporting, weekend sports, helicopter traffic) for a few months, I was moved to Cris Collinsworth's Sportstalk show for about a year and a half. Then, in 1992 they moved me to the morning sports shift. That's where I'm at now... in a constant state of sleep deprivation and talking about the teams I grew up with on the same station my Mom used to have on when I was a kid getting ready for school. I also am the sideline reporter for University of Cincinnati football; I'm on WOFX, WKRC and WCKY in various capacities as well; I write for the Bearcat Sports Digest; and do radio/TV commercials when I can fool someone into paying me. Jack Harris has never worked at WLW."
"I got started in radio a little late compared to most, (I was 25 in 1986), but of all the years I've been dysfunctional -- I remember most vividly my work in the Bay Area and the likes of Tedd Webb, Jack Harris, Gary McHenry, Mark Champion, Bill Connolly, and others from the Q-Zoo/Q105 family as well as those at 'FLA. Thanks for the influence and thanks to Tedd Webb for showing me years ago that none of this work requires a lab jacket."
This is the last of my station blog I was able to retrieve..
http://www.700wlw.com/pages/onair_scottspringer.html
Web Site: www.partingscott.com