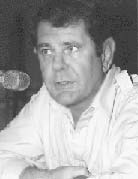 Stan Major
Stan arrived in Tampa in the mid-70's having done successful talk programs in New Orleans, Kansas City and Milwaukee. He also covered the Vietnam War for NBC News in 69-70.
Stan says "My most vivid recollection of the WDAE era was the FBI instructions on how to enter and start my car and not get blowed to pieces. The minute I hit town I started doing a bunch of shows on the Kennedy Assassination because good ole Santos Trafficante was there... along with Gray Lunch former CIA Bay of Pigs leader and a great hero to the Miami Cubans. In fact I had Gray on one night and looked him straight in the eye and ask him if he had any part in killing JFK. I don't think I've ever been in a position to ask a question like that before or since. He said "no" of course, but then I ask him if he knew any of his Cuban compatriots who had wanted JFK dead and he said yes."
Stan said the show went well in ratings but everyone got messed up with an attempt by the Teamsters to organize the station's personnel. "We were all gone shortly after that."
He returned to the Tampa area in the early 90's to begin America's first live all night talk program at the Sun Radio network. The first two years he was based in Clearwater. His national show was heard on about 500 stations over a nine year period including our sister stations here in Tampa, Orlando and West Palm Beach.
Stan can be reached at: stanmajor@aol.com