Vanna White
Vanna White was born Vanna Marie Rosich and a cerebral Aquarius (February 18, 1957) at Myrtle Beach, SC. Her parents divorced when she was less than a year old, and she was raised by her mother, Joan, and stepfather, Herbert White Jr. After graduating from high school, White moved to Atlanta, Georgia, where she attended the Atlanta School of Fashion and worked as a model.
She moved to Tampa for a time in the mid-seventies for a chance to learn more about her real father, who lived in Oldsmar. She moved in with her dad until a falling-out forced her to move and get an apartment off MacDill Avenue near Kennedy Blvd. While living there, she took odd jobs as receptionist and sales clerk at various nearby businesses.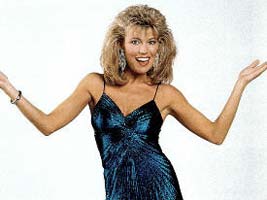 Just a few blocks away was her favorite coffee and donut spot, the Krispy Kreme on West Kennedy Blvd. She even worked there for a brief time behind the counter.
Less than a year after moving into her own apartment in Tampa, she headed to Los Angeles to pursue an acting career, but returned briefly to South Carolina during the summer of 1980, when her mother was dying of ovarian cancer.
White returned to Hollywood with renewed resolve and earned a series of minor acting jobs in largely forgettable films, including a bit part in Looker, starring Albert Finney (Tampa's Catherine Parks also starred in that flick), and a small role in the high school thriller, Graduation Day (1981).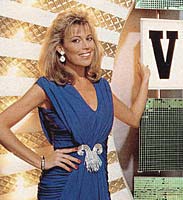 In 1982, however, White got the job that would make her career. She was chosen out of 200 applicants to join new host and former weatherman, Pat Sajak, on the NBC game show, Wheel of Fortune, created by entertainment giant Merv Griffin.
She's spinned and set the letters ever sense and has no plans to quit. She toured her old stomping grounds in 1986 when she released her less that best selling "Vanna Speaks" and stopped at the Krispy Kreme prior to making a book tour appearance a few doors down at WTVT. Jack Harris interviewed her for the station's noon show and asked her if she still enjoyed those melt-in-your-mouth donuts. "Yes, of course."
She now lives with her husband and two children in Beverly Hills, not too far from her pal that gave her the big "Wheel" break... Merv.